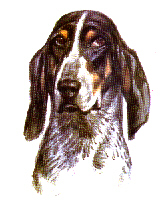 Welcome to the fascinating World of French Bassets and Hunting dogs !
This site provides a basic history of the French hunting dogs, a description of the French bassets breeds, and the story of my encounter with my first Basset Bleu de Gascogne.
You will also find links to other good sites which provide a lot of interesting information about hunting dogs.
Enjoy your visit !